This page is no longer updated
The site has recently been updated and this page has been deprecated, there may be an updated version available however this resource is only here for historical purposes, it may eventually be removed
New Style MBNL/EE/3 masts with Schematics
Last Updated: November 2017
All carry 4G on various new looking antennas and a number of frequencies. Antenna schematics included.
Single Band Antenna Per sector (two ports)
EE 2G/3G/4G (1800/2100/1800MHz) and 3 3G 2100MHz. Usually single band Kathrein antennas are used.
Two Band antenna per sector (four port)
Allows 3 to add their 4G 1800MHz. Therefore mast broadcasts EE 2G/3G/4G and 3 3G and 4G. With a combiner, it is possible to also add 2600MHz, though this is very rare. Dual band Kathrein antennas are common, as are Commscope MHAs.
Typical antenna schematics for dual input panels/dual single input panels. One panel has the 2100MHz from both operators and 1800MHz which can either be EE 2G/4G or 3 4G. The other panel can then have another 1800MHz input from EE or 3.

This is the EE and 3 cellular segment to the Corfe Castle transmitter. Broadcasting EE 4G 20MHz 1800MHz at over 100mbps and 3G in the 30s, this is one very well performing mast. Uses a fairly typical arrangement of dual band antennas: one for 1800MHz 2G and 4G and one for 3G from both operators.

Two single bands= a double band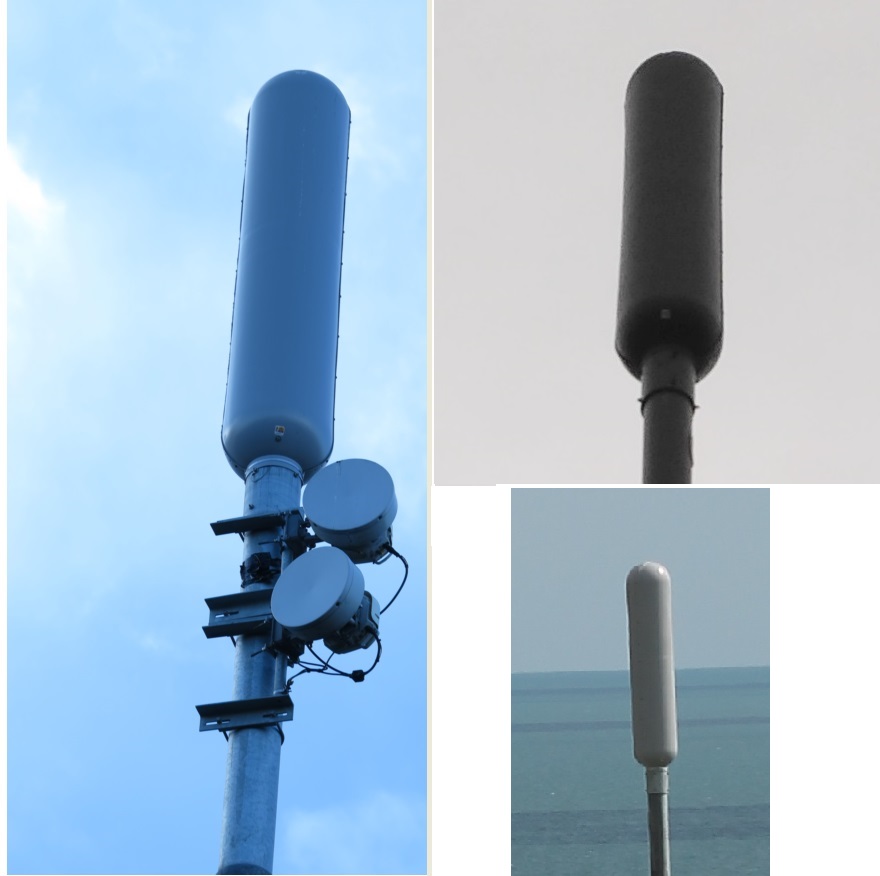 In the case of monopoles, a larger top shroud is used to fit the dual bands.
Dual band with 2600MHz.
Guildford Cathedral.
Triple Band per sector (six port) for 800MHz add
Same as dual band examples above, but gain 800MHz ability for EE or 3 or both. Commscope Andrew antennas or Huawei models, alongside Commscope MHAs usually.
| | |
| --- | --- |
| | Triple band Commscope Andrew panels currently carrying EE 2G/3G/4G on 1800MHz and 2100MHz and 3 3G on 2100MHz. However, a low band input is cabled, indicating that 800MHz is likely (probably from EE). 60-70mbps typical EE 4G speeds. |
| | Same as above but split across a Dual Band Huawei carrying 1800MHz and 800MHz, with a single band Kathreinc arrying the 2100MHz. |
Triple Band per sector (six port) for 2600MHz add
Single Antenna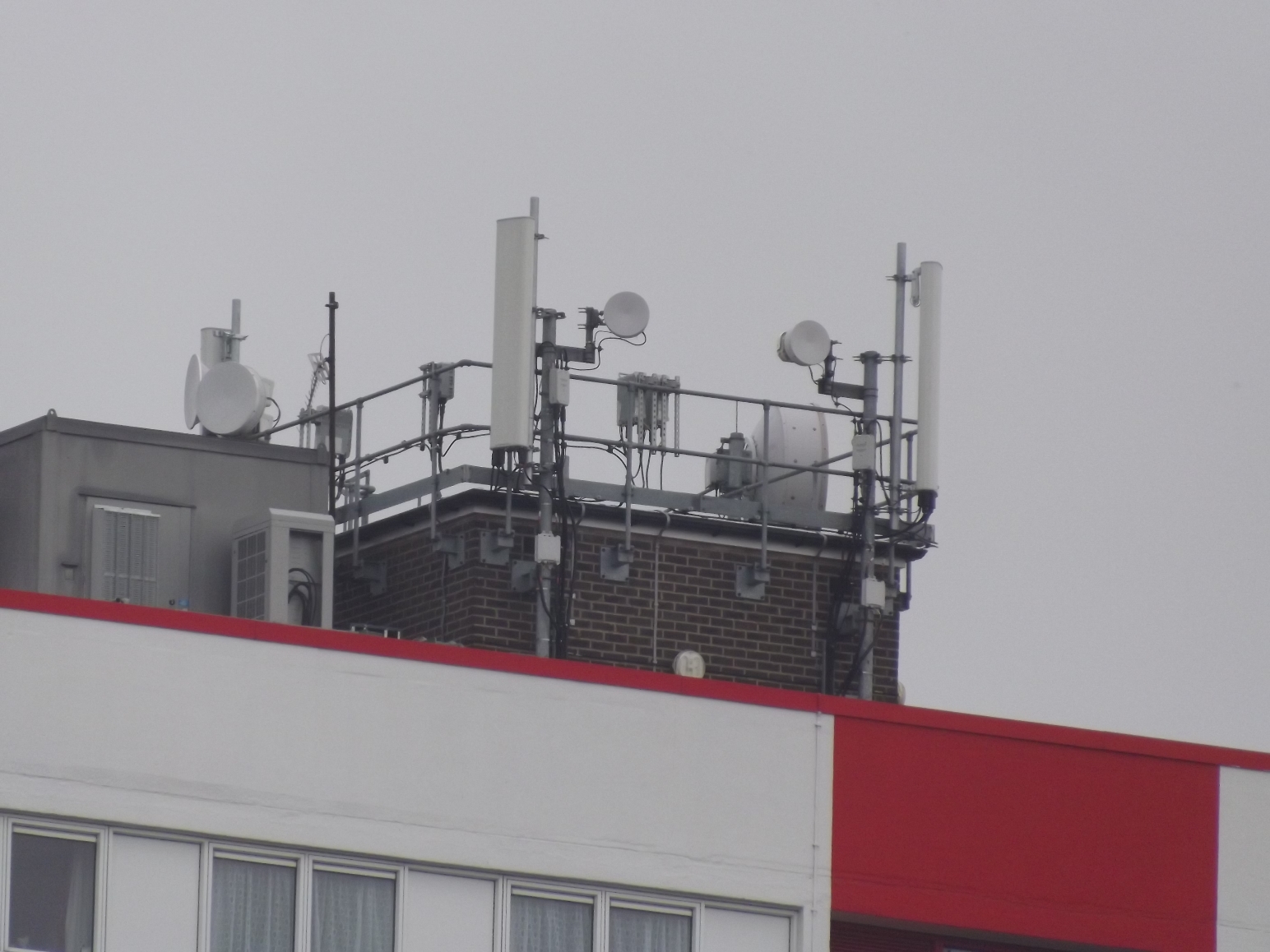 Dual antenna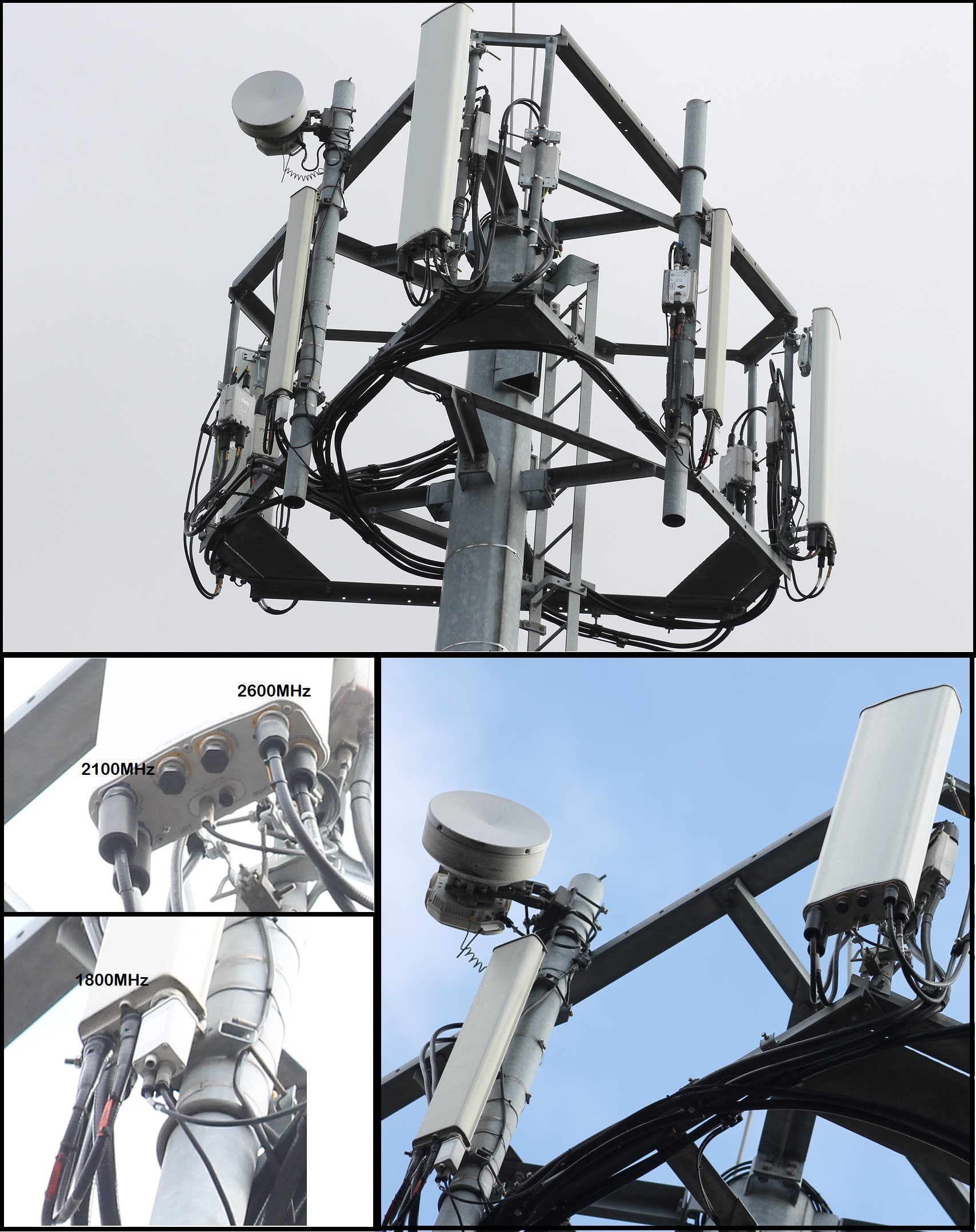 Quad Band per sector (eight ports)
For 800MHz/1800MHz/2100MHz and 2600MHz.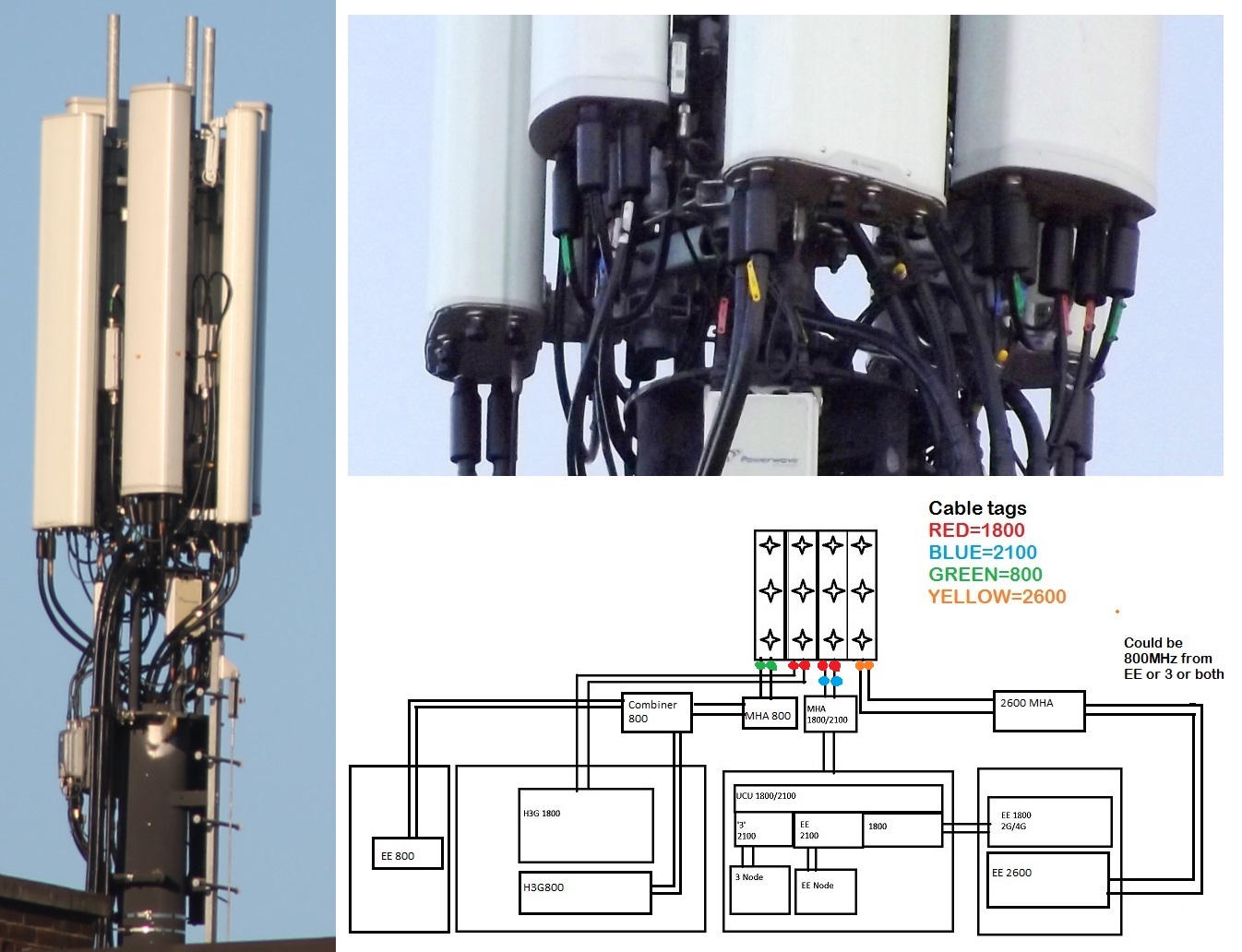 An EE and 3 mast carrying EE services on the 1800MHz (2G), 2100MHz (3G), 1800MHz (4G), 2600MHz (4G) and 3 2100MHz, 1800MHz and 800MHz services. Huawei triple band and Comsmcope Andrew triple band antennas are used, alongside powerwave and Radio Design MHAs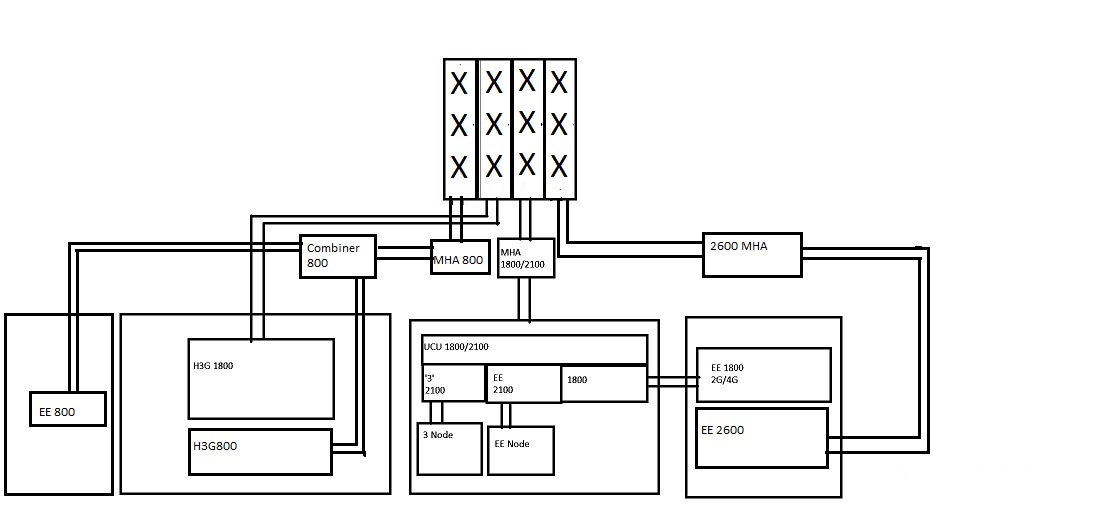 A schematic showing how all bands owned by EE can be used on an EE/3 phone mast, such as on the top left image above. 800MHz and 2600MHz each have dedicated inputs and the1800 and 2100MHz are fed as normal.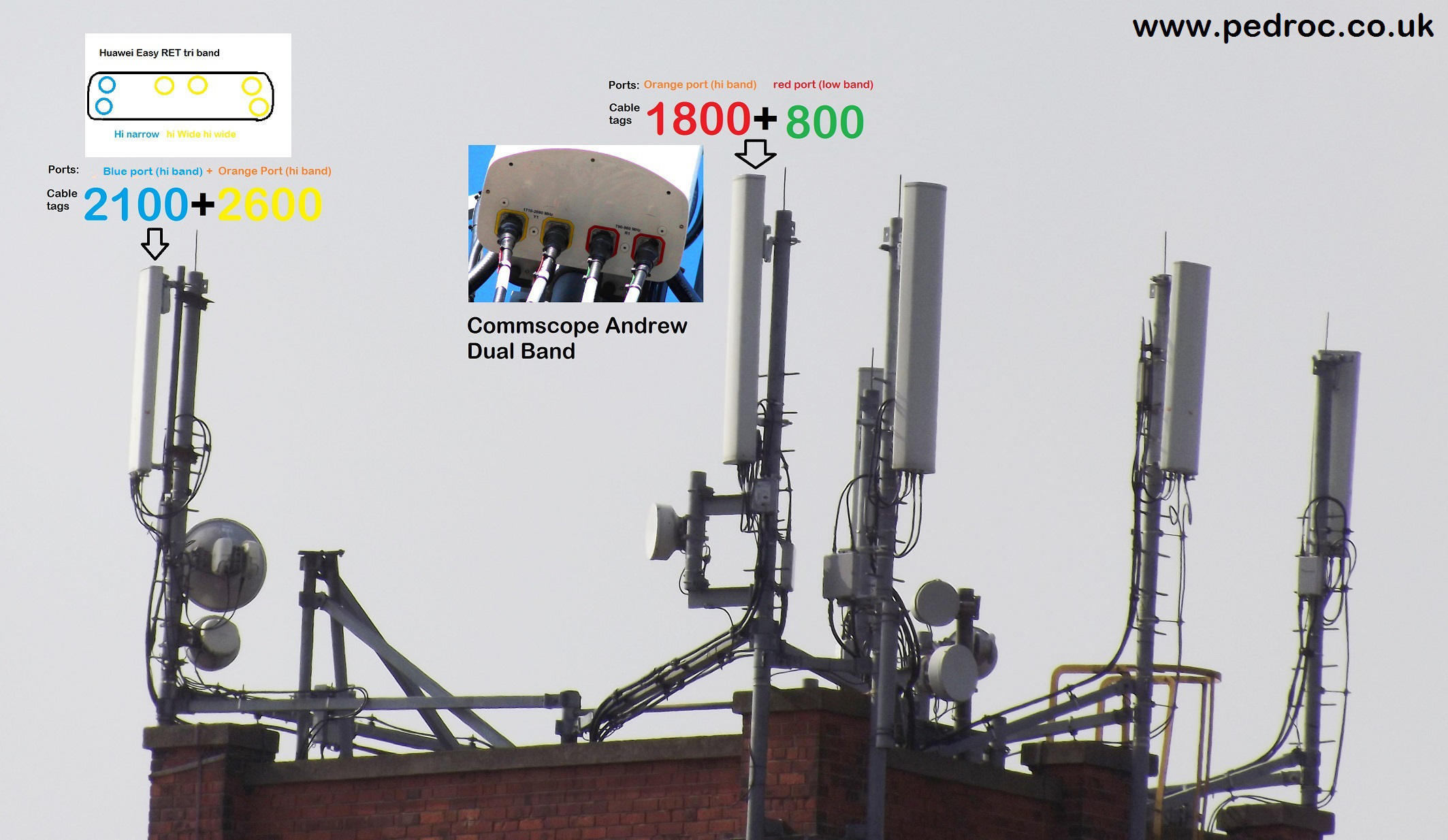 This example is similar to above but using a triple high band Huawei antenna (ATR4518R3 or Similar) and a dual band Commscope Andrew (CV65ASX-V1-M).
Penta Band per sector (10 ports)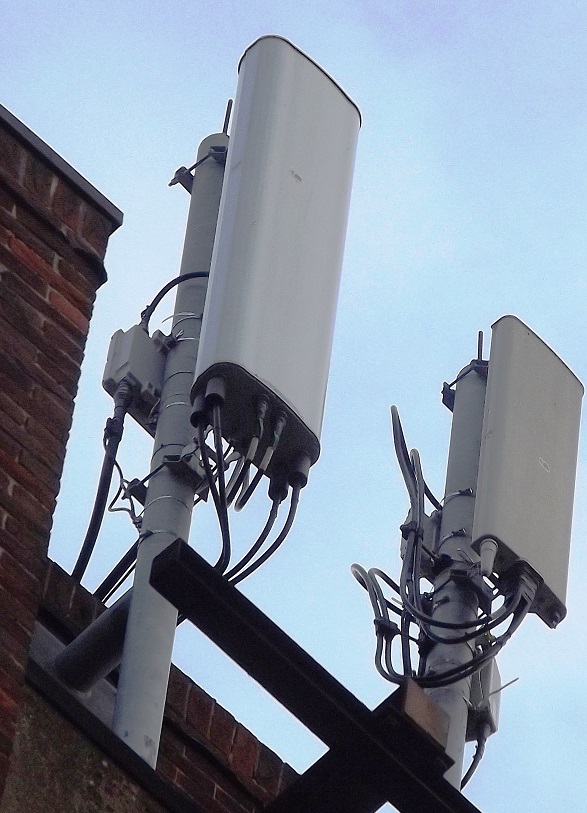 As the quad band array but with four 2ay receive diversity on 2600MHz.
Huawei RRUs for EE 2600MHz.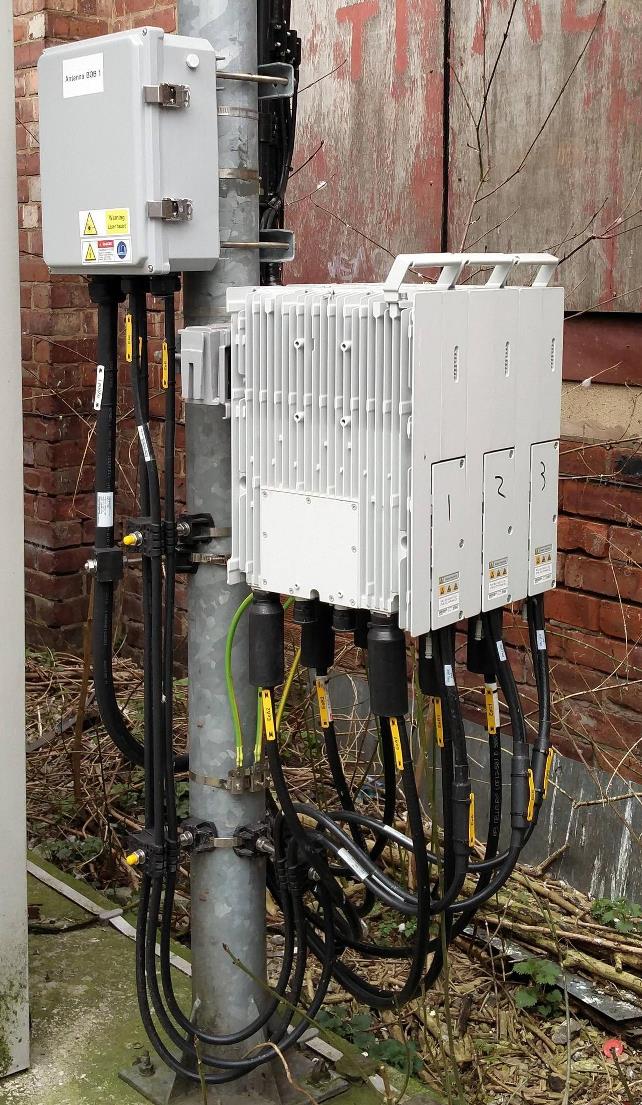 EE 2600MHz RRUs (Remote Radio Units) and a BOB (fibre Splitter)
| | | |
| --- | --- | --- |
| The arrangement on the Guildford transmitter. A triple band arrangement with low, hi and hi band for 800MHz as well as 1800 and 2100MHz services. This mast provides 3 Super-voice 800MHz, as well as EE and 3 1800MHz 4G and 3G 2100MHz. Guildford transmitter. | Another triple band panel arrangement for providing 3 Super-voice 800MHz, as well as EE and 3 1800MHz 4G and 3G 2100MHz. EE 4G was operating as 'double speed' with speeds around 70mbps. High Hunsley | Another triple band panel arrangement for providing 3 Super-voice 800MHz and EE 800MHz, as well as EE and 3 1800MHz 4G and 3G 2100MHz. EE 4G was operating as 'double speed' with speeds around 70mbps. On Wonersh Seminary. |
| This mast has triple band panels and has EE 800MHz and 3 800MHz+1800MHz 4G and 2100MHz 3G. Also EE 1800MHz 2G | | |