O2 Ericsson
The O2 Ericsson region serves the North East: Hull and East Yorkshire, as well as Newcastle and most of Scotland. Characterised by Ericsson BTS, RRUs and MHAs and pretty much exclusively Kathrein Antennas in use.
| | |
| --- | --- |
| Equipment/Antenna Schematic. | A dual band example featuring Kathrein 80010669 dual Low band panels and Ericsson RRUs (behind antennas). |
| Triple Band Antenna Schematic. | Triple Band Kathrein Panel 80010698 (low, low, high), complete with Ericsson RRUs for 800MHz and MHAs for 2100MHz. |
| | Kathrein Triple band 80010698 panel with two lows wired for 800 and 900. A dual high band Kathrein with one wired for 2100. Spare high port on 80010698 for future O2 1800MHz and the spare high port on the dual bander is for future VF L2600. |
| Quad Band Antenna Schematic | Triple Band Kathrein Panel 80010698 (low, low, high) and single high band Kathrein, complete with Ericsson RRUs for 800MHz and MHAs for 2100MHz. Between the two panels, there are two low bands and two highs which allows for L1800 alongside U2100. |
| | Use of a Quad band Kathrein antenna instead of a triple band and single. |
| A Penta Band example using a Amphenol Triple band 6878200 and a Kathrein Triple Band 80010698. All the low bands are separate. Has 2100MHz via Ericsson 2100MHz MHA. | The same as the mast on the left but with a dual band Kathrein instead of the triple band Amphenol. Also has Ericsson RRUs. |
Vodafone Huawei, NSN and Ericsson
South West region including Guildford, Basingstoke, Southampton, Bath, Bristol, Exeter, Plymouth and Falmouth. A general mix of most vendors. When 2100MHz is deployed, there is usually a separate 2100MHz transmission chain for each operator.
| | |
| --- | --- |
| The setup for carrying 2G/3G/4G (900, 900, 800) on a mast with only a single band on each sector, such as the Winterbourne Stickland mast. | Ericsson RRUs, Commscope Argus CVVPX310R1 or CVVPX308.10R3 triple band panels with two high bands and a low band. Only the low bands are wired. Also, combiners (behind panels) and 800MHz RRUs are visible. 900MHz 2G/3G from ground feeders. RRU fibre fed. Sometimes a Triple Band Huawei with only the low ports cabled is used instead of the Commscope antenna. |
| | Kathrein Dual band Panels 65 degrees, low and high bands. Possibly Kathrein 80010665V01. 800MHz and 900MHz fed separately into low band ports. High band ports are spare. |
| | Nokia RRUs and Huawei ATR451606 triple band Panels. |
| | Commscope CVVPX308.10R3 triple band panel with two high bands and one low band. It is possible to see the feeders, which indicate combined 800 and 900MHz into the low band of each panel and then two 2100MHz feeds to each panel: one for each operator. |
| | Ericsson RRUs. Panels are dual band Kathrein 80010665V01 and triple band Commscope CVVPX310R1. |
| | Dual Huawei RRUs per sector for dedicated operator 2100MHz. Huawei dual band ADU451716 and triple band ATR451709 panels. |
| | Triple band Commscope Argus CVVPX310R1 and dual band Kathrein 80010665V01 with all wired. Ericsson RRUs for 800MHz. Also operator dedicated 2100 feeds and also 1800MHz. |
Vodafone Huawei only
North West region including Manchester, Liverpool and Carlisle. Characterised by Huawei active and passive antennas, Huawei RRUs. Separate 2100MHz transmission chain.
Huawei Dual band and Huawei AAU.

Two Huawei Active antennas and a passive antenna per sector. The integrated RRUs that make the panels active are for dedicated operator 2100MHz.

Two Dual Band Huawei Panels ADU451716 with two Huawei RRUs. Most likely configuration is L08VT, UG09VT, U21V, U21T.

Dual Band Huawei ADU451716 and Triple band Huawei ATR451709.

Triple Band Huawei ATR451709 and Dual band Huawei ADU451716.
O2 Nokia (NSN)
The O2 Nokia region includes Norfolk, Lincoln, Leicester and Loughborough, as well as Kent and Brighton and many other East Midlands locations. Nokia BTS, MHAs and RRUs in this region, alongside Commscope, Amphenol and Kathrein antennas. Dual dual band (quad band) antennas are fairly characteristic.
| | |
| --- | --- |
| Amphenol 5963200 dual dual band antennas and a separate Kathrein dual band 80010771. Nokia MHAs for 2100MHz. | Identical to the setup on the left but using a Commscope Argus Quad Band (CCVVPX305/CCVVPX308) and a Kathrein 80010305 |
| A possible schematic if 4x4 is deployed. Otherwise, the ports used to provide the additional antennas for 4x4 could be for single operator G18 and additional G09, for example. | A Quad Band Kathrein Antenna, previously thought of as an Amphenol TWIN338CU000, together with a dual band antenna, which again, in theory, permits 4x4 on L08 and L18. Also usual UG09, U21. Nokia MHAs on 2100MHz. |
| Schematic will similar to the one above as it has six ports and carries the same frequencies. | Two Kathrein dual band panels and a, I believe, Kathrein dual band. 08, 09, 18, 21. |
Vodafone and O2 Masts in London
I have not covered the masts in London on this page at this current time due to their exceptional variety; I have yet to explore the complex ones in sufficient quantity to establish trends.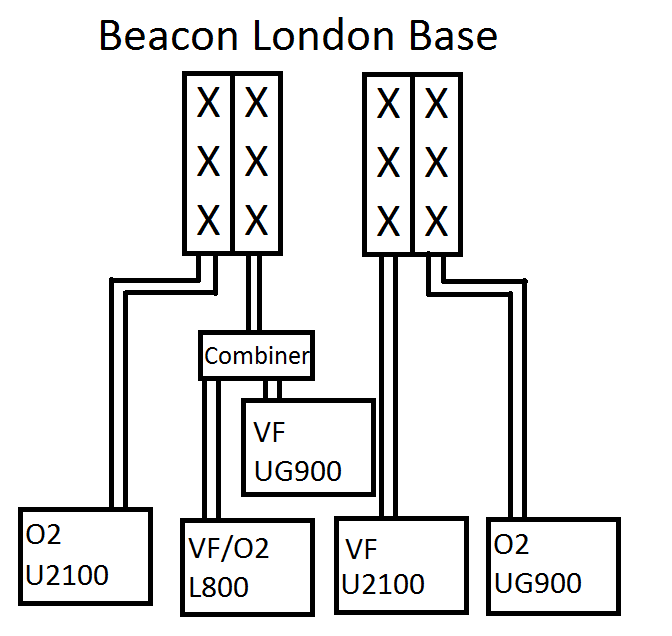 Beacon's base setup in London. Additional frequencies are added ontop of this setup through combiners and additional panels.