Isle of Man Mobile Networks Review
Manx Telecom vs Sure
Introduction:
The Isle of Man is a self governing Crown Dependancy in the Irish Sea with a population of around 86, 000. The Isle has two Mobile Network Operators (MNOs): Manx Telecom and Sure (Cable and Wireless Guernsey). Both mobile operators are licensed to use spectrum on the 800MHz, 900MHz, 1800MHz and 2100MHz bands.
Coverage:
Manx Telecom and Sure both generally have very good coverage of the Island; the only occasions either lost service was when deep in rural valleys. However, Manx did edge slightly ahead, both for overall coverage and for 4G coverage. Our testing provides an explanation for this raised 4G coverage; Manx has low frequency 4G, 800MHz, rolled out to almost every mast where Sure primarily was utilising the 1800MHz band which is more range limited. Manx also has 1800MHz 4G deployed for capacity. The annotated map below shows the signal logs for the test area.
Coverage Technologies Map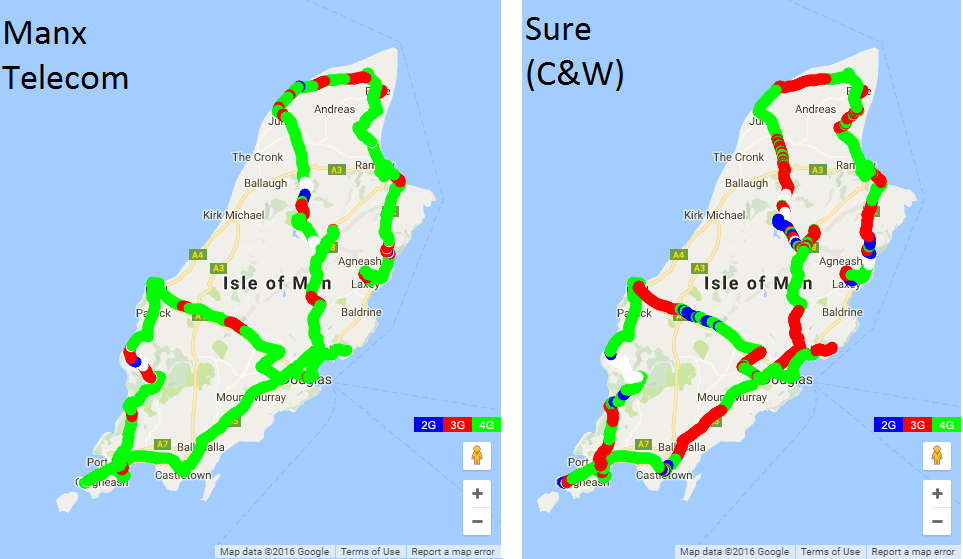 In areas that Manx has 4G and Sure does not, it is evident that Sure generally had 3G. 3G that was usually rather fast. In fact, I found that even Sure's 2G was usable.
Network Speed:
Manx Telecom's deployment of 800MHz and 1800MHz 4G results in most areas having 30MHz of 4G bandwidth, compared to Sure's 20MHz from the 1800MHz band alone. Manx Telecom aggregates their 800MHz and 1800MHz on certain sites in Douglas, in order to provide extra fast 4G+ for suitable, Cat. 6, devices. Their spectrum setup, combined with more 4G coverage, leads to Manx Telecom being a faster network on average. Nevertheless, the difference was quite small, in part perhaps due to my Manx Telecom network test device sometimes selecting the slower 800MHz band rather than the 1800MHz one in rural areas. As Manx Telecom enables carrier aggregation outside of Douglas, their speeds available to CA devices like my LG G4 shall increase by much.
Manx Telecom and Sure Average Speed Graph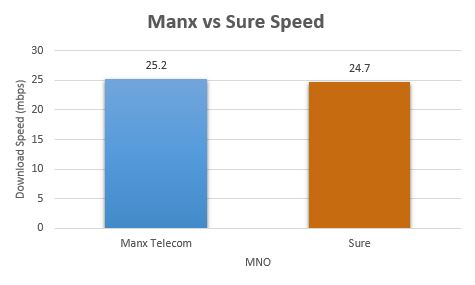 Manx Telecom and Sure Speed Test Samples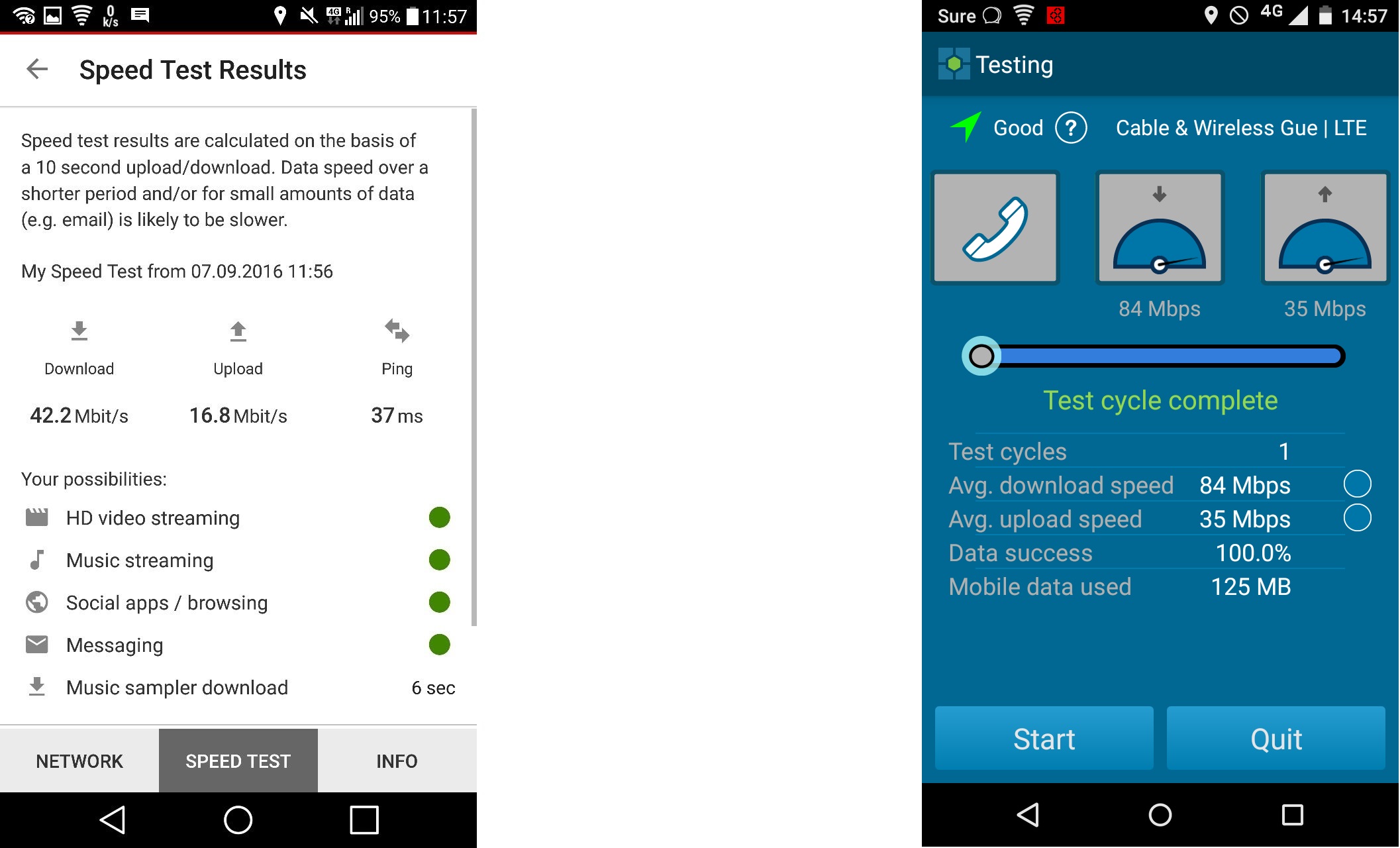 Left: A Manx Telecom 4G+ speed test in central Douglas. Manx Telecom was tested through roaming on Vodafone Eurotraveller.
Right: Sure recorded the highest 4G speed at Ramsey, but 3G samples reduced the average. I used a Sure PAYG SIM for the Sure tests.
Conclusion:
Manx Telecom and Sure both have very good mobile networks and are therefore credible choices. If you do not leave the urban areas, you would not notice much difference unless you require the highest speeds, in which case Manx is the evident choice. The same choice applies to rural areas, Manx was almost always the better choice. Though, as said before, the difference really isn't that massive.
Video Review:
To find out more about the networks in the Isle of Man, follow the links on my homepage